Zeno's Warbird Video Drive-In Big May 2016 Newsletter
Hello World War 2 & jet aircraft fans --
You are invited to drop by Zeno's Warbird Video Drive-In
http://zenoswarbirdvideos.com/
to view our May 2016 selection of nine exciting films streaming over the Web in broadband, including four premieres!
As always, all of the videos showing on our web site are for your free viewing pleasure. Please help "spread the word" by liking us on Facebook!
Now showing in March "At the Matinee" at Zeno's Drive-In Free admission!
http://www.zenoswarbirdvideos.com/MATINEE.html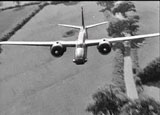 * R.A.F. Airfront. 1944. NEW! Restored "Airfront" was the operational mission film series that supplemented the "The Gen" R.A.F News Magazine" shown to R.A.F. service personnel. While "The Gen" had a breezy, "Life Magazine" style showing R.A.F. operations around the World, "Airfront" focused on individual missions and units, offering dramatic continuous action, from strategic bombing to on-the-deck ground attacks. This clip contains episodes from missions over Northern Europe from pre-invasion Spring 1944 into August 1944. All types of Aircraft were featured, including Lancasters, Typhoons, Bostons, Mitchells, Mosquitoes & more.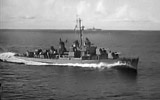 * Destroyers: Greyhounds of the Sea. Narrated by the legendary actor & ex Marine Corps DI, Jack Webb, this fascinating documentary covers the history of "Tin Cans" from the US Navy's first "Torpedo Boat Destroyer," the U.S.S Bainbridge (DD-1) in 1903, through World War 1 & World War 2, to modern guided missile and ASW Destroyers operating in Hunter/Killer groups in concert with Aircraft Carriers.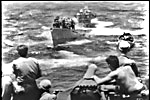 * The Capture of U 505. This film takes a memorable look at World War II advanced anti-submarine operations. In June, 1944, Task Force "Guadalcanal," commanded by Captain Daniel V. Gallery, composed of the escort aircraft carrier USS Guadalcanal (CVE-60), and five destroyer escorts under the Commander Frederick S. Hall were on station off the Cape Verde Islands, where code intercepts placed German U-Boats. From the outset of the mission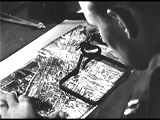 * Air Photographic Intelligence for Bombardment Aviation. Top secret & never shown to the public, this picture is an amazing time capsule from World War 2. Starring screen legend Alan Ladd (Shane, This Gun for Hire) it's like a real life detective story, seen only by Air Intelligence trainees. Smitty an American Captain in photo analysis stationed in a misty Scottish castle, becomes obsessed with a photo recon picture taken over Hamburg, Germany, that has anomalies he just can't explain. The story of how he solves this riddle using persistence, insight and World War 2 High Tech (including Stereo Vision€ is a fascinating tale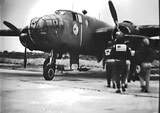 * Photo Mapping Recon Mission to Myitkyna, Burma.(1944-Restored)
NEW This 'behind the scenes' photo reconnaissance mission was filmed by the 10th Army Air Force Combat Camera unit in April, 1944. It's one of those gems that shows an essential operation that was rarely seen by the general public, and takes place in the C.B.I theater of operations, which IMO has received little of the attention it deserves in the intervening years. The target is the town of Myitkyna in North East Burma, a vital rail, air field, supply & operations center for Japanese forces in the area and a prime objective for General "Vinegar Joe" Stilwell's next offensive.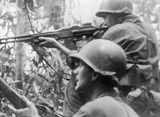 * Merrill's Marauders & the 88th Fighter Squadron in Burma. (Restored) This dramatic film contains all known footage of Merrill's Marauder's 5307th Composite Unit (provisional) secret deep penetration mission behind Japanese lines through the Burmese jungle to capture the airfield at Myitkyina in 1944. The last third of the film is an up close look at 88th Fighter Squadron P-40 dive bombers flying out of the captured Myitkyina airfield, supplying very close air support for the Marauder's assault on the town itself. Highlights include distinctive skull marked P-40Fs, with pilots & support crews, unique from the cockpit views of P-40 dive bombing runs and 88th FS armorers custom fitting 250 pound Navy HE depth charges with fins & detonators for use against jungle fortifications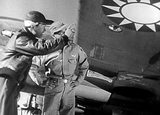 * Why We're Here Fighting in Burma & India. 1945
This film report was delivered by General Daniel Sultan, who succeeded General Stilwell as Allied commander of Burma/India operations. When surveyed, 50% of US forces had responded that they didn't know why they were in seemingly obscure South East Asia, "fighting to save the Chinese and the British Empire," instead of in Europe or the highly publicized island campaigns in the South Pacific. In response, the General shows the vital strategic importance of keeping China in the war and the essential role (and sacrifices) of British and Chinese forces, all done through engaging film clips and maps.
* 365th Fighter Group Hell Hawks. (Exclusive Production Restored Color) I put this to documentary together from silent unedited archival film. Really exciting P-47 Thunderbolt action from the skies over Germany, Spring, 1945..Col. Ray J Stecker leads the men of the 386th, 387th, and 388th Fighter Squadrons into action. Watch extensive color footage of the 365th Thunderbolts in their forward bases in France and Belgium and exciting air-to- air and air-to-ground attacks, including rare gun camera film of the shoot down of a Messerschmidt Me 262 jet fighter!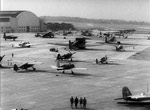 * Wright Field: Test Center for the Army Air Force. 1943
NEW Wright Field was the hub of US Army Air Force testing & development of new weapons & aircraft during World War 2. Virtually all aircraft produced by the Allies were flown in for evaluation, including (as you'll see) Spits, Hurricanes, P-38s, P-39s, P-40s, A-20s, B-17s, the Mammoth B-19, B-24s & B-25s.& more. Virtually every system in aircrafts were tested, including brakes, hydraulics,landing gear machine guns, & gun sights.
We also show 1940-45 vintage WWII Army & Navy films and pilot's manuals on how to fly the F4U, F6F, P-38, P-39, P-40, P-47, P-51, P-61, TBF/TBM, AT-6/SNJ, B-17, B-24, B-25, A-20, A-26, B-26, B-29, and Stearman N2S. Alert! - don't miss the F-86, B-47 & B-58!
Zeno
Zeno's Warbird Video Drive-In
World War II Aviation Videos Playing Online 24/7
http://www.zenoswarbirdvideos.com
Zeno's Flight Shop DVD Store
World's Largest selection of WW2 & vintage jet videos
http://www.zenosflightshop.com/
Now on Twitter @ZenosWarbirds
Web Videos: RAF Attacks,Tin Cans,Air Photo Intel,Burma Action, P-47s