Zeno's Warbird Video Drive-In Big July 2017 Newsletter--
Hello World War 2 & jet aircraft fans --
This July marks our 20th Anniversary on the Internet. Thanks for all your support!
You are invited to drop by Zeno's Warbird Video Drive-In
http://www.zenoswarbirdvideos.com
to view our July 2017 selection of eight exciting films streaming over the Web in broadband including a hot new premiere!
As always, all of the videos showing on our web site are for your free viewing pleasure.
Please help "spread the word" by liking us on Facebook!
Now showing in July "At the Matinee" at Zeno's Drive-In Free admission.
If you click on an ad during one of our videos, it costs you nothing & helps support Zeno's Warbirds.
http://www.zenoswarbirdvideos.com/MATINEE.html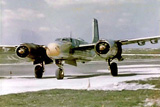 * Douglas A-26 Invaders in Action Updated HD Stream Legendary SFP 186 Army Air Force combat cameramen rode along with 416th Bomb Group A-26 Invaders during March and April, 1945 with color film loaded in their cameras. The results are some of the most beautiful and dramatic footage to come out of the World War II. You'll see fleets of silver Invaders soaring through towering cumulus clouds before unloading torrents of bombs deep inside the Third Reich. An added bonus is a cache of remarkable still pictures taken by 416th Group (668th, 669th, 670th and 671st Bomb Squadrons) staff photog "Sargent Cachat" showing A-26s and their crews.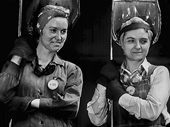 *Women in Steel NEW Jobs in heavy industries like steel were once thought of as suitable for men only. By the middle of World War 2, that myth was shattered as 1,000s of women moved into jobs traditionally performed by men, including blast furnace tending, crane operation, welding and steel fabrication. In some cases,women filled the same jobs that their brothers or husbands had before they went off to war. On sight interviews with working women about their jobs are especially interesting. Women of Steel was produced in cooperation with Republic Steel and was shot on location.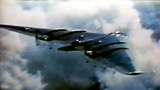 * The Story of the Northrop Flying Wing The Flying Wing was the brainchild of Jack Northrop, who started work on the concept in the 1930s. Northrop advocated "The Wing" as a means of reducing drag and structural weight. It may be hard to believe today, but the original Northrop Flying Wing's innovative design was often used against it by detractors from competing aircraft companies ("An airplane that doesn't have a tail??!!") So, Northrop Aircraft produced this information film to extol the Wings virtues and answer her critics. The result is a film that gives a compelling overview of the principles of advantages of the Wing design, delivered by Northrop's Director of Engineering, Harrison F. Burke.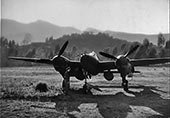 * World War 2 Pilot Safety Training:Learn & Live! Pilot deaths during training were all too frequent in World War 2, a grim fact that was kept from the public, but was a matter of grave concern to the Army Air Corps. Shown only to pilots, this wonderful film, "Learn & Live," is a unique combination of an entertaining, sometimes surreal storyline, with practical nuts and bolts safety training. Saint Peter (Guy Kibby) gives "Joe Instructor" a temporary pass to "Pilot Heaven," because he's concerned that so many more young trainees are coming up stairs before their time, due to ignoring procedures or excessive bravado. What follows are a dozen case studies of how recent arrivals, wearing angels wings, shooting pool & playing cards, met their fates, told with pointed, often sarcastic humor.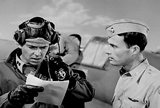 * World War 2 Fighter Combat Formations An experienced Army Air Force fighter pilot, played with his usual verve by Ronald Reagan, is called back from the front to lead a fighter tactics class in Flight School for rookie pilots. The film starts with the AAF way for forming. deploying and maneuvering fighter formations from two ship elements to 12 plane squadrons & how to take on enemy fighters. Then the focus turns to tactics for escorting friendly bombers and attacking enemy bomber formations, including close escort, top cover, using the sun to blind opponents, employing decoys in the attack - and more.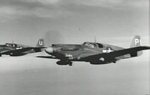 * Dive Bomber Attacks in Italy "Air Attacks Against Italy" shows exciting from the cockpit views of USAAF A-36 dive bomber bombing & strafing attacks near Rome in 1944. This is a short film, but it's nonstop action! Some of the best footage of US dive bombing attacks you will find anywhere. The A-36 Apache (aka "The Invader") was the Allison engined ground attack version of the P-51 Mustang, equipped with dive brakes and 20mm cannon.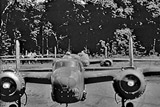 *Mission to Rabaul Rabaul, a large natural harbor on the eastern end of the huge Island of New Britain (located northeast of New Guinea in the Southwest Pacific) was an essential strategic linchpin for the Japanese from which they could project their forces throughout the region. They poured tens of thousands of troops, hundreds of airplanes, and thousands of tons of supplies and material into this base to make it a mighty fortress. The Allies' brilliant solution to the Rabaul conundrum was to isolate it, slowly starve it and bypass it -- rather than assault it directly.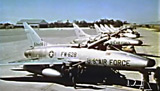 * The United States Air Force in Vietnam This wide ranging USAF video covers the rapid expansion of the US Air Force's roll in the Vietnam War in the mid 1960s. Bases are set up at Cam Ran Bay, Phan Rang, Bien Hoa and other sites. A wide range of aircraft are shown in action including F-100 Super Sabres, F4 Phantoms, F-104 Star Fighters, F-102 Delta Daggers, F-105 Thunder Chiefs, A-1 Skyraiders, B-52 and B-57 bombers and more. There's exciting combat footage throughout the film showing air strikes over both South and North Vietnam. Meet the aircraft and the men who flew and maintained them. (Get this video & more on our Airstrike Vietnam DVD.)
We also show 1940-45 vintage WWII Army & Navy films and pilot's manuals on how to fly the F4U, F6F, P-38, P-39, P-40, P-47, P-51, P-61, TBF/TBM, AT-6/SNJ, B-17, B-24, B-25, A-20, A-26, B-26, B-29, and Stearman N2S. Alert! - don't miss the F-86, B-47 & B-58!
Zeno
Zeno's Warbird Video Drive-In
World War II Aviation Videos Playing Online 24/7
Zeno's Flight Shop DVD Store
http://www.zenosflightshop.com/
World's Largest selection of WW2 & vintage jet videos.
Your DVD purchases make all this possible
Now at Zeno's Flight Shop: 20th Anniversary Sale - Year's Lowest Prices! Store wide savings of up to 60% off on DVDs.
Web Videos:A-26 Invaders Attack,Women in Steel,WW2 Pilot Heaven,Dive Bombers,USAF Vietnam & more