Zeno's Warbird Video Drive-In Big April 2017 Newsletter--
Hello World War 2 & jet aircraft fans --
You are invited to drop by Zeno's Warbird Video Drive-In
http://www.zenoswarbirdvideos.com
to view our April 2017 selection of eight exciting films streaming over the Web in broadband with three premieres! This month we're showing six films (**) featured prominently in the Netflix documentary series "Five Came Back" about five directors who left their Hollywood jobs to document & film world War 2 as it happened. (Highly recommended!)
As always, all of the videos showing on our web site are for your free viewing pleasure.
Please help "spread the word" by liking us on Facebook. Your orders at our video store make all this possible!
Now showing in April "At the Matinee"
http://www.zenoswarbirdvideos.com/MATINEE.html
at Zeno's Drive-In Free admission!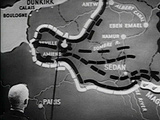 ** Frank Capra's 'Divide and Conquer NEW Episode three of the Academy Award Winning "Why We Fight in World War 2 Series. Hitler says he has no further plans of conquest, guaranteeing the neutrality of the Scandinavian countries and Holland and Belgium. Six month later he occupies Denmark and moves swiftly to invade Norway. The British land troops to oppose the Germans, but Luftwaffe air superiority force them to withdraw. After a period of inaction on the border with France known as the "Sitzkrieg," Hitler orders his generals to attack, ignoring the neutrality of Holland and Belgium. The invasion of France is shown in great detail using dramatic footage and animation to illustrate Blitzkrieg tactics, explained by a top U.S. Army intelligence officer.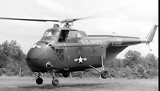 * Flying the Sikorsky H-19 Helicopter NEW Restored Color The Sikorsky H-19 and its subsequent variants were workhorse utility helicopters for all branches of the U.S. military and many allied forces in the 1950s & 60s, playing prominent roles in conflicts from Korea through the Vietnam War and in many civilian rescue operations. It was also built under license in Britain as the Westland Whirlwind, by Mitsubishi in Japan and by the SNCASE in France. The film covers eight steps: Pre-flight Inspection, Cockpit Procedures, Taxiing, Hovering, Takeoff, Auto-rotation, Approach and Engine Shutdown. The film offers very detailed views of this classic "Chopper," inside and out.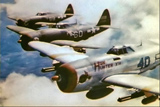 ** Thunderbolt! Directed by William Wyler & Preston Sturgess. Exclusive restored edition with lost footage & stereo sound "Thunderbolt!" chronicles the exploits of the P-47 Thunderbolt pilots of the "Fighting Cocks" of the 65th Fighter squadron, 57th Fighter Group. Based on the island of Corsica off the northwest coast of the Italian boot, the 57th FG flew from behind the enemy's flank. As part of "Operation Strangle," they continuously attacked highways, bridges, ammo dumps, railroads and just about anything that moved to choke off the flow of supplies to the Axis front line. This film not only features exciting one-of-a-kind P-47 combat footage, it also shows day-to-day life on a MTO forward air base, including vintage pilot slang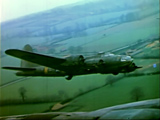 ** The Memphis Belle in Restored Color Directed by William Wyler -"The Memphis Belle" shows the 25th mission of the Boeing B-17 Memphis Belle, flying deep into Germany to strike the all important U-boat submarine pens at Wilhemshaven. You'll see Capt Robert Morgan and the men of the B-17 "Memphis Belle," 324th Squadron, 91st BG, going about their deadly business in rare Technicolor footage. The mission shown in the film is both routine and climactic, because 25 missions completed meant the crew could rotate out of combat. Too many never made it to 25 missions. Bomber losses were high.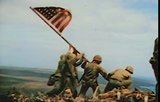 *To the Shores of Iwo Jima NEW Restored Color Academy Award Nominee. Four cameramen were killed and ten were wounded while filming this extraordinary documentary."The toughest 26 Days in Marine Corps history". The Japanese spent 20 years turning the 8 square mile island rock of Iwo Jima into The Gibraltar of the Pacific, honeycombed with miles of deep tunnels, pill boxes, block houses and gun emplacements sheltered in galleries dug deep into Mount Suribachi. What followed was what one Marine described as "26 days in Hell." 70,000 US Marines & Navy Seabees faced off against dug in Japanese forces, who rarely surrendered or retreated.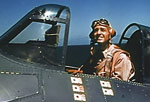 ** John Ford's The Battle of Midway. Restored Color The Battle of Midway" is an Academy Award Winning documentary, directed by four time Oscar Winner John Ford (The Quiet Man, The Grapes of Wrath, Stage Coach, The Informer). This stirring documentary was shot by director John Ford during the intense June 4th Japanese carrier plane attacks on Midway Island and by Navy Combat Cameramen aboard the USS Yorktown during the epic carrier battle, along with color gun camera film of air to air and air to sea combat. Highlights include memorable scenes from the Marine Base on Midway, airfield B-17s leaving to attack the Japanese fleet, patrolling PBYs,. Action packed Japanese attacks on the Yorktown and Midway.

** News From the Front in North Africa Restored Color Shot In Technicolor by US Army, Navy and O.S.S. cameraman in Morocco, Algeria and Tunisia, November-December 1942. (Much of the film was shot by Director John Ford and his team of combat cameramen, as featured on the Netflix series "Five Came Back.") Hands down some of the best color footage we have seen from World War 2. The landings in North Africa and the advance to Tunisia to battle Rommel's Afrika Korps were tough "on the job training" for the brand new American Army and Air Corps.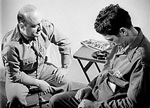 ** John Huston's Let There Be Light was commissioned by the United States Army Signal Corps at the end of World War 2. There are no actors in this true life documentary. For the first time on film, Huston explored the diagnosis and treatment of what used to be called "battle fatigue" or "shell shock" among returning servicemen. This condition is now know as PTSD - post traumatic stress disorder. Public showing of "Let There Be Light" was suppressed soon after completion and it wasn't released for 30 years because of a feared negative effect on recruiting and public morale. But it's a story that must be told because it's still highly relevant to our times.
We also show 1940-45 vintage WWII Army & Navy films and pilot's manuals on how to fly the F4U, F6F, P-38, P-39, P-40, P-47, P-51, P-61, TBF/TBM, AT-6/SNJ, B-17, B-24, B-25, A-20, A-26, B-26, B-29, and Stearman N2S. Alert! - don't miss the F-86, B-47 & B-58!
Zeno
Zeno's Warbird Video Drive-In
World War II Aviation Videos Playing Online 24/7
Zeno's Flight Shop DVD Store
http://www.zenosflightshop.com/
World's Largest selection of WW2 & vintage jet videos
Videos: 6 Films from Netflix WW2 Series "5 Came Back," H-19 Choppers, Iwo Jima &more