Zeno's Warbird Video Drive-In Big May 2017 Newsletter--
-
Hello World War 2 & jet aircraft fans --
-
You are invited to drop by Zeno's Warbird Video Drive-In
http://zenoswarbirdvideos.com/
to view our May 2017 selection of eight exciting films streaming over the Web in broadband with two premieres!
-
As always, all of the videos showing on our web site are for your free viewing pleasure.
Please help "spread the word" by liking us on Facebook.
--> Every time you click on an advertisement at the beginning of one of our videos, you help support Zeno's Warbirds -- and it doesn't cost you anything!
Now showing in May "At the Matinee" at Zeno's Drive-In
Free admission!
http://www.zenoswarbirdvideos.com/MATINEE.html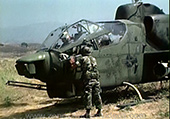 * Marine Bell AH-1 Sea Cobra Attack Helicopter Combat Capabilities
NEW See Marine Cobras performing critical missions, mostly in support of amphibious landings, including: escorting transport helicopters to and from onshore operations, suppression fire for landings and follow up advances, escorting and scouting for armor, acting as forward air controllers, marking targets and attacking enemy armor. Cobras typically act in two ship formations, supporting each other in "pop up" attacks from behind cover, flying very low, aided by their extreme agility to follow rough terrain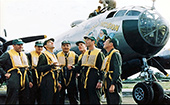 * B-29s Attack North Korea plus Nose Art I created this original documentary from a recently found reel of silent, unedited and undocumented footage shot by the US Air Force in Korea in August-September, 1950, for a documentary that was never released. The highlight of the film shows an early morning briefing for 19th Bomb Group (28th, 30th and 98th Bomb Squadrons, B-29 Superfortresses) at Kadena Air Base on Okinawa followed by footage from the actual mission over North Korea.
* Deploying Tanks for a Night Attack
NEW This is a fascinating look at planning and deployment of an armored force for a night attack at company platoon level. U.S. Army Task Force 211's mission is to seize high ground in a forest in the dead of night. You'll learn about recon, formations, lines of advance, command & control & much more. This is a rare reenactment of US Army small unit armored tactics in the depth of the Cold War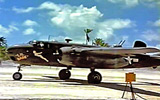 * B-25s: Winged Artillery
Nine 75mm cannon firing B-25Gs of the 48th Bomb Squadron, 7AAF, based on Apamama in the Gilbert Islands, conduct a hair raising tree top level strike on the Japanese air base on Mille. Features amazingly well preserved and very rare color footage of daily life of air crew and ground personnel stationed on the islands. As a bonus, you'll watch Sea Bees using heavy equipment to transform these hard won tropical atolls into fully functioning air bases and ground crews maintaining the Mitchell's massive cannons.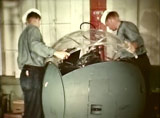 *U.S. Navy Aviation Metal Smiths
: Making parts from scratch
During World War 2 Spare parts for Naval aircraft weren't always readily available at sea or in the field. Your see Navy metal smiths produce a replacement engine cowling from scratch in the field, including producing a mold and casting, for a PBY Catalina and repairing a PB4-Y (the Navy's B-24) with a new nose turret and more.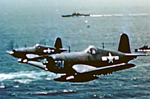 * Hook Down, Wheels Down: The Story of the U.S. Navy's Aircraft Carriers
This fine documentary was produced by the Department of the Navy in 1968 to celebrate the first 50 years of carrier based aviation, with an emphasis on World War II operations. The Navy Archives were opened to provide footage ranging from precarious landings on the old Langley, to the Battle of the Coral Sea, to CVEs facing the Japanese at Leyte Gulf and more. The highlights of the film are the numerous interviews with famous naval aviators, including George Gay, the only survivor at Midway from Torpedo Squadron 8, John Thach, who tells how he invented the famous "Thach Weave," Gene Valencia, a top USN ace and Adm Wade McClusky, also of Midway fame.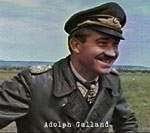 * Luftwaffe Finis: The end of the German Air Force
This is one of our most viewed videos! I produced this documentary from unedited, silent footage. Recently discovered color film of top Luftwaffe leaders and pilots taken as they fell into Allied hands at the end of World War II. You'll see startlingly realistic color footage of Herman Goering, Albert Kesselring, Adolf Galland, Hans Ulrich Rudel and many more. Captured aircraft are shown as well, including an Me 262, the first jet fighter, and an FW 190. You'll be amazed when you see these color images out of the past.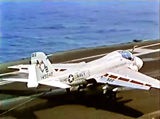 * The Grumman A6-E: Any Weather, Any Time
This video not only has great A-6 Intruder footage, there's also on the spot interviews with pilots & Air Wing Commanders discussing the aircraft's outstanding capabilities. The A-6E, the definitive version of the Navy's A-6 Intruder attack bomber with upgraded navigation and attack systems, was introduced in 1970 and first deployed on 9 December 1971.
We also show 1940-45 vintage WWII Army & Navy films and pilot's manuals on how to fly the F4U, F6F, P-38, P-39, P-40, P-47, P-51, P-61, TBF/TBM, AT-6/SNJ, B-17, B-24, B-25, A-20, A-26, B-26, B-29, and Stearman N2S. Alert! - don't miss the F-86, B-47 & B-58!
-
Zeno
Zeno's Warbird Video Drive-In
World War II Aviation Videos Playing Online 24/7
Zeno's Flight Shop DVD Store
http://www.zenosflightshop.com/
World's Largest selection of WW2 & vintage jet videos. Your DVD purchases make all this possible!
Videos: Marine Sea Cobras,Tanks at Night, B-29s Attack N. Korea,USN Carriers, 75mm B-25s