Cosmic Wierdo
Staff member
Super Moderator
TheMess.Net
Joined

Apr 14, 2019
Messages

536
Points

318
***05/28/19: Updated with new pics***
Looking to share from my various collection and focus on some machines I find interesting. To start I have chosen the Lockheed P-80/F-80 Shooting Star, its family members, and variants. Feel free to share along with pictures, discussion, links, or suggestions/corrections. I am by no means an expert just an enthusiast. More to come!
Brief background:
The Lockheed P-80 Shooting Star was the first jet fighter used operationally by the United States Army Air Forces (USAAF). Designed and built by Lockheed in 1943 and delivered just 143 days from the start of the design process, production models were flying, and two pre-production models did see very limited service in Italy just before the end of World War II. Designed with straight wings, the type saw extensive combat in Korea with the United States Air Force (USAF) as the F-80.​
​
America's first successful turbojet-powered combat aircraft, it helped usher in the "jet age" in the USAF, but was outclassed with the appearance of the swept-wing transonic MiG-15 and was quickly replaced in the air superiority role by the transonic F-86 Sabre. The F-94 Starfire, an all-weather interceptor on the same airframe, also saw Korean War service. The closely related T-33 Shooting Star trainer would remain in service with the U.S. Air Force and Navy well into the 1980s, with the last NT-33 variant not retired until April 1997. Many still serve in a military role in foreign air arms or are in private hands.​
Variants:
XP-80: Prototype powered by a de Havilland-built Halford H.1B turbojet and first flown 8 January 1944, one built.
XP-80A: Production prototype variant powered by a General Electric I-40 turbojet, increased span and length but wing area reduced, two built.
YP-80A: 12 pre-production aircraft. One aircraft, 44-83027, lent to Rolls-Royce Limited and used for development of the Nene engine.
XF-14: One built from YP-80A order 44-83024, lost in midair collision with B-25 Mitchell chase plane on 6 December 1944; USAAF photo reconnaissance prototype.
P-80A: 344 block 1-LO aircraft; 180 block 5-LO aircraft. Block 5 and all subsequent Shooting Stars were natural metal finish. Fitted with 225 US gal (187imp gal; 850 l) tiptanks.
F-80A: USAF designation of P-80A.
EF-80: Modified to test "Prone Pilot" cockpit positions.
F-14A: Unknown number of conversions from P-80A, all redesignated FP-80A.
XFP-80A: Modified P-80A 44-85201 with hinged nose for camera equipment.
F-80A: test aircraft 44-85044 with twin 0.5 in (12.7 mm) machine guns in oblique mount, similar to World War II German Schräge Musik, to study the ability to attack Soviet bombers from below
F-80: with Schräge Musik configuration at full elevation
FP-80A: 152 block 15-LO operational photo reconnaissance aircraft.
RF-80A: USAF designation of FP-80A, 66 operational F-80A's modified to RF-80A standard.
ERF-80A: Modified P-80A 44-85042 with experimental nose contour.
XP-80B: Reconfigured P-80A, improved J-33 engine, one built as prototype for P-80B
P-80B: 209 block 1-LO; 31 block 5-LO; first model fitted with an ejection seat (retrofitted into -As)
F-80B: USAF designation of P-80B.
P-80R: Modification of XP-80B to racer.
P-80C: 162 block 1-LO; 75 block 5-LO; 561 block 10-LO
F-80C: USAF designation of P-80C; 128 F-80A modified to F-80C-11-LO with J-33-A-35 engine and ejection seat installed; fitted with 260 US gal (220 imp gal;980 l) tiptanks; major P-80 production version.
RF-80C: 70 modified F-80A and F-80C, and six modified RF-80A, to RF-80C and RF-80C-11, respectively; upgraded photo recon plane.
DF-80A: Designation given to number of F-80As converted into drone directors.
QF-80A/QF-80C/QF-80F: Project Bad Boy F-80 conversions by Sperry Gyroscope to target drones. Q-8 was initially proposed as designation for the QF-80.
TP-80C: First designation for TF-80C trainer prototype.
TF-80C: Prototype for T-33 48-0356.
TO-1/TV-1: U.S. Navy variant of F-80C; 49 block 1-LO and one block 5-LO aircraft transferred to USN in 1949; 16 initially went to U.S. Marine Corps.
General characteristics (P-80C/F-80C):
Crew: 1
Length: 34 ft 5 in (10.49 m)
Wingspan: 38 ft 9 in (11.81 m)
Height: 11 ft 3 in (3.43 m)
Wing area: 237.6 ft² (22.07 m²)
Aspect ratio: 6.37
Empty weight: 8,420 lb (3,819 kg)
Loaded weight: 12,650 lb (5,738 kg)
Max. takeoff weight: 16,856 lb (7,646 kg)
Zero-lift drag coefficient: 0.0134
Drag area: 3.2 ft² (0.30 m²)
Powerplant: 1 × Allison J33-A-35 centrifugal compressor turbojet, 4600 lbf (20.46 kN) / 5400 lbf (24.02 kN) with water injection
Performance:
Maximum speed: 600 mph, Mach .76 (P-80A 558 mph at sea level and 492 mph at 40,000 ft)[8] (965 km/h)
Cruise speed: 410 mph (660 km/h)
Range: 1,200 mi (1,930 km)
Service ceiling: 46,000 ft (14,000 m)
Rate of climb: 4,580 ft/min (23.3 m/s) 5.5 min to 20,000 ft (6,100 m)
Wing loading: 53 lb/ft² (260 kg/m²)
Thrust/weight: 0.364 (0.427 with water injection)
Lift-to-drag ratio: 17.7
Armament:
Guns: 6 × 0.50 in (12.7 mm) M3 Browning machine guns (300 rpg)
Rockets: 8 × 127mm unguided rockets
Bombs: 2 × 1,000 lb (454 kg) bombs
Operators:
Brazil: 33 F-80Cs delivered starting in 1958, withdrawn from service in 1973.
Chile: approx 30 F-80Cs delivered from 1958 on, last ones retired from service in 1974.
Colombia: 16 F-80Cs delivered starting in 1958, retired by 1966.
Ecuador: 16 F-80Cs delivered between 1957 and 1960, six returned to the United States in 1965.
Peru: 16 F-80Cs delivered starting in 1958, used by the 13th Fighter-Bomber Group until the type was phased out in 1973.
United States:

United States Air Force
United States Navy, 1945 to 1970s

Uruguay: approx 17 F-80Cs delivered, withdrawn from use in 1971.
The first Shooting Star prototype (44-83020) was nicknamed Lulu-Belle (also known as "the Green Hornet" because of its paint scheme). Powered by the replacement Halford H1-B taken from the prototype de Havilland Vampire jet fighter, it first flew on 8 January 1944, with Lockheed test pilot Milo Burcham at the controls. In test flights, the XP-80 eventually reached a top speed of 502 mph (808 km/h; 436 kn) at 20,480 ft (6,240 m), making it the first turbojet-powered USAAF aircraft to exceed 500 mph in level flight, following the August 1944 record flight of 502 mph (808 km/h; 436 kn) by a special high-speed variant of the Republic P-47 Thunderbolt.
Shooting Star sources & resources:
Good serial number listing and plane history for many Shooting Stars.
Forgotten Jets tracking the service histories of military aircraft.

www.forgottenjets.warbirdsresourcegroup.org
USAF serial number registry.
Write up on the Shooting Star and first engagements during Korean War.
The forgotten airwar over Korea.
nationalinterest.org
Smithsonian article on the history of the Shooting Star.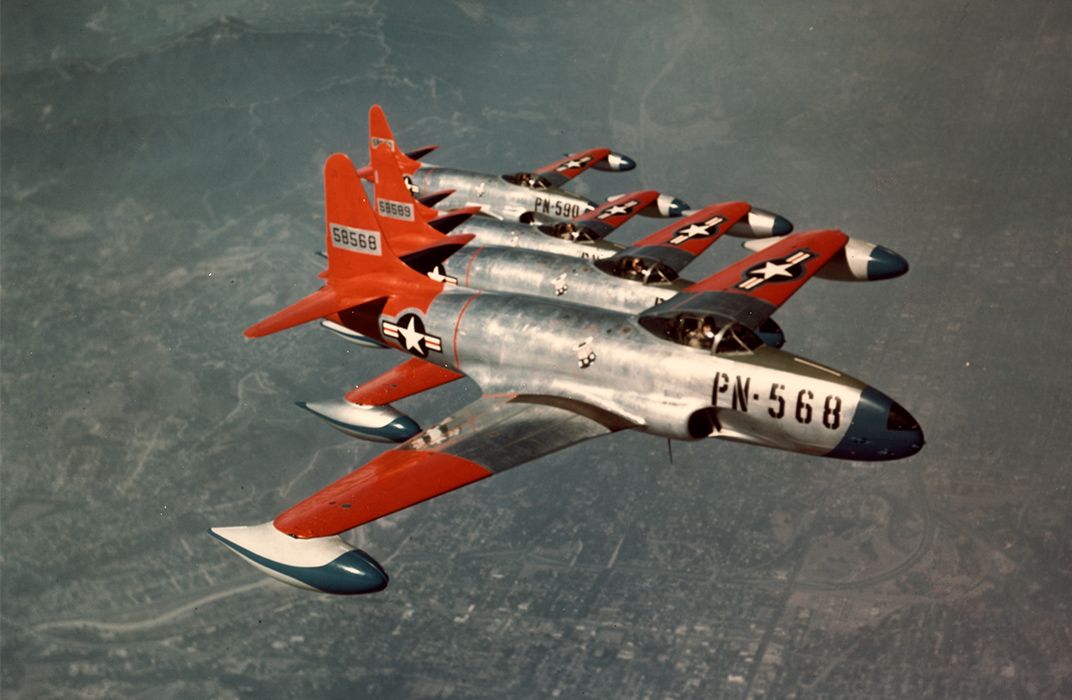 From Lockheed's famed design chief Kelly Johnson, the first U.S. jet to fight.
www.airspacemag.com
Brief write up on the first engagement between the MiG-15 and F-80C over Korea.
Full gallery link:
All things Lockheed P-80/F-80 Shooting Star family & variants. If it is a Lockheed Shooting...
Last edited: