Having
scrapped plans to build a new fighter jet of its own
, Japan's defense ministry has reportedly inquired to multiple international defense contractors, including Lockheed Martin and Boeing, about collaborating on a new stealth jet. Sources tell
Reuters
that Lockheed Martin is planning to respond to Japan's request with a formal proposal for a new fighter that "would combine the F-22 and F-35 and could be superior to both of them."
Exactly how such a proposal could move forward is unclear. U.S. law bans the export of F-22 Raptor technology, so Lockheed would need to receive an exemption from the federal government—and its not clear whether they'd get it.
Reuters
says Lockheed has met with Japanese defense ministry officials to discuss the new jet design and is planning to submit the official proposal after receiving permission from the U.S. government. A Lockheed Martin spokeswoman told
Reuters:
"We look forward to exploring options for Japan's F-2 replacement fighter in cooperation with both the Japanese and U.S. governments. Our leadership and experience in 5th generation aircraft can be leveraged to cost-effectively provide capabilities to meet Japan's future security needs."
Japan has been working to build a new fifth-generation fighter called the F-3 to replace and support its F-2 and F-15J fighter jets, which are a variants of the F-16 Fighting Falcon and F-15 Eagle, respectively. However, the high costs of the F-3 program led the country to seek international cooperation on the project instead.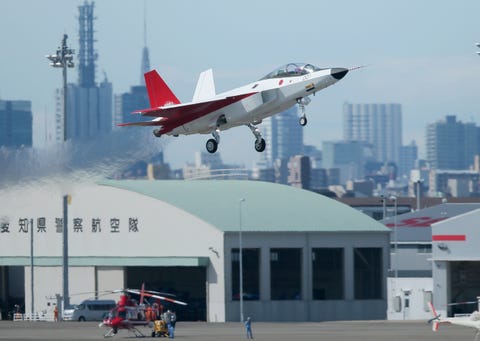 Japan's X-2 prototype stealth fighter.
Another source told
Reuters
that any new jet built with international partners would need to include engines, radar, and other components built in Japan. The nation is already planning to
purchase around 60 F-35s
to modernize its air force, but the country also wants to acquire a new air superiority fighter by 2030 to deter Chinese and Russian jets. Japan hoped to buy F-22 Raptors more than a decade ago, but the 1998 ban on F-22 technology exports thwarted those plans and left Japan looking for another way to improve its air superiority capabilities.
"We are considering domestic development, joint development and the possibility of improving existing aircraft performance, but we have not yet come to any decision," a Japanese Ministry of Defense spokesman told
Reuters
.
Mitsubishi Heavy Industries, Japan's leading defense contractor, produced a prototype stealth fighter known as the X-2 in 2016 as part of the Advanced Technology Demonstrator-Experimental (ATD-X). However, the $350 million price tag of that program led the defense ministry to seek other options. In addition to Lockheed Martin, Japan reportedly sent a request to Boeing, which produces the
F/A-18E/F Super Hornet
, and the United Kingdom's BAE Systems, which worked on the
Eurofighter Typhoon
.
"Boeing is very interested in working with the U.S. and Japan Governments in order to collaborate with Japanese industry on the next fighter program, building on their accomplishments and on our own experience," a Boeing spokesperson told
Popular Mechanics.
BAE Systems did not immediately respond to request for comment.
The plans for Japan's next-generation stealth fighter are still in the early stages, and it is not clear which contractor the country's defense ministry will work with—or if it will work with an international partner at all.
With two next-generation stealth fighters in development from China and Russia, the J-31 and Su-57, respectively, Japan wants to make sure it has something in the inventory that will allow its air force to dominate the skies over its island.