Super Moderator
Staff member
Super Moderator
TAARB
Joined

Apr 2, 2017
Messages

35,847
Points

458
New Zealand is in mourning after 49 people were killed at two mosques in the country's deadliest-ever shooting.
PM Jacinda Ardern described Friday's shooting in the city of Christchurch as one of New Zealand's "darkest days".
Flowers have been left outside mosques across the country as worried families wait for news of missing loved ones.
A gunman believed to be a white supremacist live-streamed the rampage. A man in his late 20s has been arrested and is due to appear in court.
Two other people are in custody. No names have been made public.
A total of 48 people were wounded in the shootings. The identities of the dead and wounded have not been released.
Bangladesh, India and Indonesia all say some of their citizens were killed in the shooting and others are unaccounted for.
On Saturday, Christchurch Mayor Lianne Dalziel expressed "revulsion" at this "act of terrorism" and solidarity with the victims.
"We have welcomed new people into our city. They are our friends, they are our neighbours," she told reporters. "We want to come together to support them."
Security remains tight across Christchurch. All mosques in New Zealand have been closed.
How events unfolded
The first report of an attack came from the Al Noor mosque in central Christchurch during Friday prayers at 13:40 (00:40 GMT).
A gunman drove to the front door, entered and fired on worshippers for about five minutes.
The gunman, who live-streamed the attack from a head-mounted camera, said he was a 28-year-old Australian called Brenton Tarrant. The footage showed him shooting at men, women and children.
A survivor told the New Zealand Herald newspaper how he escaped through a window.
Moroccan-born Nour Tavis said
he was in the front row when the shooting started.
"People were running and all of a sudden you saw them fall," he said. He saw someone smash a window. "I followed… it was the safest place to get out."
The wife of one of his friends was killed, he said.
"When she heard the noise, she wanted to go and make sure her husband was safe," he said. "She got the bullet, her husband got away."
The gunman is then said to have driven about 5km (three miles) to another mosque in the suburb of Linwood where the second shooting occurred.
One witness described how one of the worshippers had managed to disarm the man
, who ran to a waiting car outside.
It is not clear where the arrests were made.
The visiting Bangladesh national cricket team had a narrow escape: they were on their way to pray at Al Noor mosque.
Police say they recovered firearms from both mosques, and explosive devices were found in a car belonging to one of the suspects.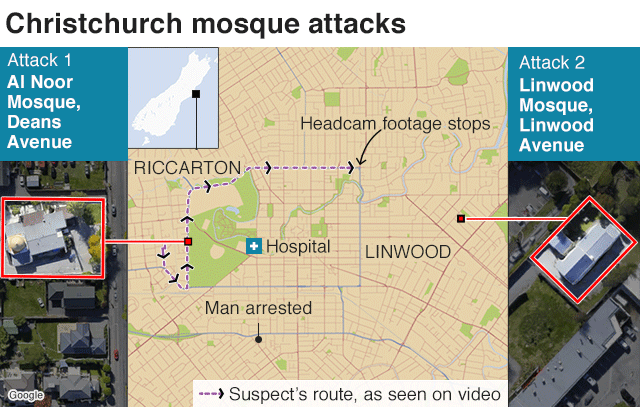 https://www.bbc.com/news/world-asia-47590685